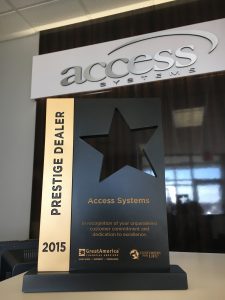 GreatAmerica Financial Services of Cedar Rapids, IA has named Access Systems a Prestige Dealer for 2015.
The Access team was recognized by GreatAmerica because of the leadership qualities and long-term vision at Access Systems. The leadership team at Access is strong and focused on a vision for growth and success. In fact, in the past 10 years Access Systems has gone from one location in central Iowa to 12 across Iowa and in Omaha, with plans for continued growth.
In addition, Access Systems was chosen as a Prestige Dealer because of, "ethical business conduct, customer focus and loyalty to worthy business partners [that] align with our vision and principles at GreatAmerica."
This is not the first time Access Systems was presented with the Prestige Dealer award from GreatAmerica, they also received the award in 2013 and 2014.