What is The Byte? It's the monthly IT newsletter from the folks at Access Systems focused on keeping you up-to-date at what's going on at Access and in the IT industry. Cool, right? We think so too.


Check your inbox the first Wednesday of every month for this newsletter. We hope you enjoy it.
Access Named to Tech Elite 250 List
Access Systems has once again garnered another industry accolade by being named a Tech Elite Solution Provider. This award came from CRN, an IT channel news outlet and a brand of The Channel Company.
Only 250 solution providers across North America were named to this elite list, and Access Systems was one of three in Iowa to make the list. To read more click here.
Get Email Updates on Your Urgent Tickets
On March 27 we launched a new status notification service for our Total IT Care customers. If you have an urgent IT issue, after you submit a ticket, you will be receiving email alerts on the status of your ticket. This will ensure you are aware of where in the process your ticket is.
Information Security Essentials Program Launches
We have started offering our customers a basic cybersecurity service, Information Security Essentials or "ISE." ISE offers our customers a first step to protecting their IT environment and will help protect from cybersecurity breaches. The ISE program is described on our website. We are excited to offer these services and protect our customers from growing cybersecurity threats.
Windows Vista End of Life Announced
Windows Vista will reach its end of life on April 11, 2017. After this date there will be no further updates or support to the operating system. If you continue to utilize Windows Vista, there will be a heightened risk of cyber attacks. Please contact your IT team with any questions you may have.
The Importance of Offsite Backup Systems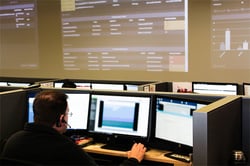 In the age of technology, malware and ransomware are becoming an ever-increasing threat to businesses and personal technology users. To safeguard your devices, and to prevent serious data loss, you'll want the security and reliability of an offsite backup system. Why else? Read here.
Cybersecurity Tips for the Whole Office
Cybersecurity isn't something that only your company's IT department should worry about - it takes a village. The first step? Get your employees on board. Read more here.