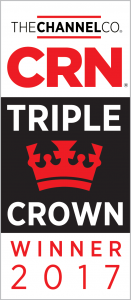 A new Triple Crown champion has been named.
And no it isn't American Pharoah.
Access Systems was one of 40 managed service providers across North America to claim this title for 2017. Over the course of the year, the team has been named to three of CRN's, a technology industry media site, most esteemed lists and rankings. The lists, which include the Fast Growth 150, the Solution Provider 500, and the Tech Elite 250, recognized the top solutions providers in North America for their growth, revenue, and certifications.
It is a considerable achievement for a solution provider to make any one of these lists; to make it onto all three, however—as this year's Triple Crown Award winners have done—is a big achievement.
A company must simultaneously have enough revenue to be ranked on the Solution Provider 500 list, record double- or triple-digit growth for recognition on the Fast Growth 150, and invest heavily in top certifications to attain Tech Elite 250 status.
Of the 40 Triple Crown winners, Access Systems was one of only a handful to be based in the Midwest, adding to the exclusivity of the award and prowess of Access Systems as an organization.
"This year's CRN Triple Crown Award winners boast multiple, advanced technical certifications from leading vendors, rank among the top-earning IT solution providers in North America, and are some of the fastest-growing organizations in the channel today," said Robert Faletra, CEO of The Channel Company. "These over-achieving businesses have set the standard for success in the strategic service provider era and are leading the channel into an exciting new future."
Access Systems has been around since 1986, but since 2005, the Iowa-born technology company has experienced tremendous growth, over 10 years of double-digit growth to be exact. And they're not planning on stopping.
"We're thrilled to have been honored with the 2017 Triple Crown award and be recognized alongside some of the top IT solution providers across North America," Shane Sloan, President and CEO of Access Systems said. "We're excited about the future and looking forward to continuing to offer high-quality IT solutions for our customers."