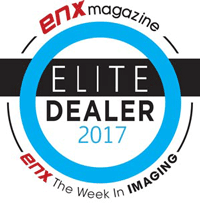 The results are in and for the third year in a row, Access Systems has been named an Elite Dealer by ENX Magazine.
The annual award is given to top office technology dealers based on their growth initiatives, innovative marketing, tremendous customer service, community engagement, positive workplace cultures, and adaptability in their markets.
Only 114 dealerships from across the United States met ENX Magazine's steep qualifications to be named an Elite Dealer, and Access Systems was one of two Elite Dealers based in Iowa.
"Once again, it is great to see the Access Systems name listed next to our industry's top dealerships," Shane Sloan, President and CEO of Access Systems said. "We will continue to strive to meet the Elite Dealer qualifications in the years to come, and we are up to the challenge."
All 114 winners will receive a feature in the December issue of ENX Magazine.
To see the complete list of winners, visit ENX Magazine.com.