Should you lease or purchase your copier? There's a lot to consider when making such an important decision.
It may surprise you to make such a drastic comparison, but purchasing a copier is a lot like purchasing a car. It is a huge investment for your business and impacts workflows and your budget. For some, it makes more sense to lease.
Why? Purchasing a copier includes more than just the initial cost of the device itself. It also includes the little things— like maintenance, repair and even toner. These additive costs aren't always extra when bundling with a lease.
What are the hidden costs of purchasing a copier? Here are four things to consider before buying a copier outright:
A Maintenance Agreement
While leases have a service agreement bundled into the contract, maintenance agreements are an additional cost when purchasing. Maintenance agreements are fundamental to the upkeep of your office copier. They provide repair services, so you don't have to worry about what to do when your copier isn't working properly.
Of course, you can always opt out of a maintenance agreement, but what happens when your copier needs a repair? Without a maintenance agreement with a managed print services provider, your service ticket is billable, meaning you pay for each service ticket individually, including time and parts. We have seen many customers, who do not have maintenance agreements and live with partially broken copier, experience higher and higher bills. This lack of proper care leads to the copier needing to be prematurely replaced.
Or maybe you don't call an expert. Your IT professional may be the go-to person in your office when your copier is on the fritz, but the time they spend trying to diagnose your copier is time they are not protecting your network.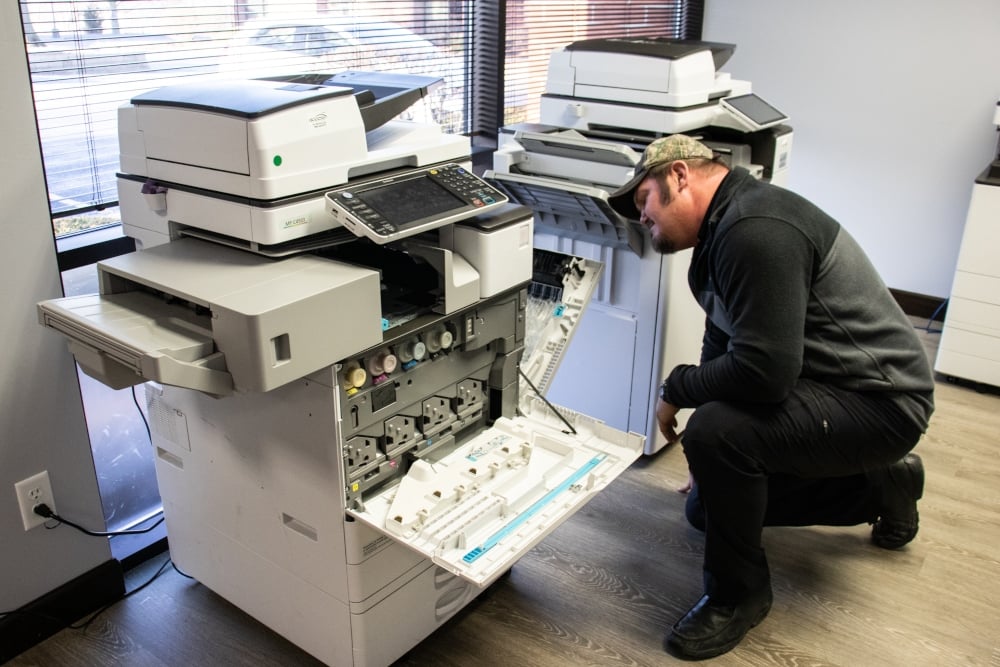 Supplies
Without a managed print services partnership, you are responsible for purchasing supplies, including toner. Those who lack a proper purchasing process can experience massive headaches, such as falling for toner pirate scams.
If different departments are responsible for purchasing their own toner, they run the risk of mismanaging their time and resources. While your employee scours the internet for hours to find the perfect and cheapest toner option, they aren't focused on their primary responsibilities. Or, they buy the most convenient option to save time, missing important details.
Not only is your company losing productive time, it can cost you an extra billable service call. Often the toner received from the cheapest seller is of poor quality. These cartridges can cause damage to your machine, which requires immediate care from an expert.
What happens when people order too much or the wrong toner? We have seen closets full of the wrong toner. Space that could be better used to store business essentials.
With a managed print services provider by your side, you don't have to worry. At Access Systems, we work with you to develop a purchasing plan, and supplies come directly from us, guaranteeing you will have the right toner to get you up and running quickly.
Lack of Technology Upgrades
Since purchasing a copier takes such a large upfront sum, you don't want to be spending that kind of money often. Upgrading your copier can take years when you purchase.
Within a contract, your business experiences more flexibility to fit your needs. When working with a managed print services provider, like Access Systems, they will be able to evaluate your print environment on a regular basis and make money saving recommendations based on print volumes and growth.
Just like your business, technology is constantly evolving to be more efficient and productive. Some devices may become overworked because of workflow changes or simply don't function like they used to. Most lease agreements understand this continuous change and work in a clause about upgrading technology. At Access Systems, most of our customers are available for upgrades midway through their contract.
While the copier you purchase today fits your needs, your business' complexities are always changing, and technology is evolving to be more efficient and productive.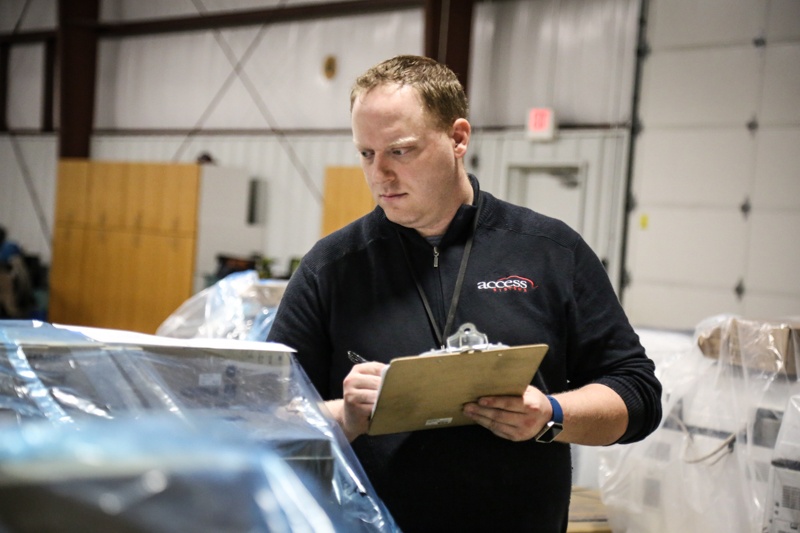 Copier Removal
It may be years away, but thinking about the end of life for your copier is important. When it's time to say goodbye to your purchased copier, what will you do?
Who are you going to pay to remove it from your property? Maybe, it is worked in to the purchase with the managed print services provider or an additional cost. Or perhaps, Bob in your office has a large truck for you to haul it, but where does it go?
Dropping it off at the local dump may appear to be an easy fix, but it puts your data and cybersecurity at risk. Your copier contains a hard drive that every document is stored in before printing. Hard drive security is an often-overlooked measure, when it comes to copier disposal. Even if you are selling your copier to a managed print services provider, it is essential to know what security measures they take to protect your data.
At Access Systems, copiers in our care can have its hard drive wiped. If not properly taken care of, this information can violate your security compliances and even lead to a fine or worse— your data ends up in the wrong hands.
Choose the Right Print Solution for Your Business
Fortunately, you don't have to make these decisions alone. When you partner with Access Systems, our experts will identify your obstacles and propose a solution that fits your needs and resources.
Together, we will weigh the pros and cons of purchasing or leasing a copier, so you can be confident in your decision.