Copiers may appear to be producing more waste than they use, but many companies are taking the initiative to produce environmentally-friendly office technology.
Your copier can be the perfect vehicle to begin your eco-friendly office initiative.
Simply reduce, reuse and recycle.
Reduce Your Energy
Have you ever wondered about how much energy your copiers and printers use a day? Reducing their energy can, not only save you money, but also reduce your environmental footprint. As offices grow and change, companies are working to do more with less power. Technology manufacturers want to help you achieve your goal.
Did you know most copiers have energy saving settings? These settings are hidden away in the administrative settings. These settings are sometimes also called 'Sleep Mode' or 'Auto Power Off Mode.' They will:
Have your copier go to sleep after a period of no use
Only awaken after your copier receives a print job or when a button is pressed
Some copiers and printers have the option to add a schedule, so the copier can properly shut down during non-operation hours and holidays.
Want to know if your copier has these options? Check out your user manual or speak with your managed print services provider today.
Copier and printers efficiency is important to your eco-friendly office. The amount you are changing your ink or toner impacts your energy levels and how often you are changing your ink and toner cartridges, which is why making sure you are using the right printer/copier is important.
Reuse Toner Waste Containers
When the message 'toner waste container is full' pops up, it is an opportunity to save the environment from another item landing in a landfill and your company money. Your toner waste container shouldn't end up in the trash, instead you can empty and reuse it.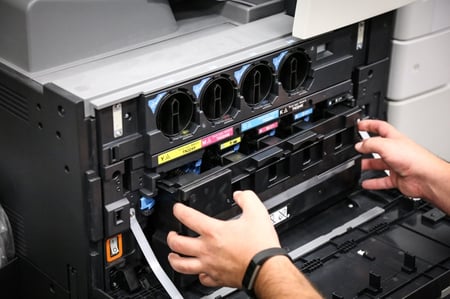 Empty the toner waste container yourself in four easy steps:
Release the waste container, which is located in the inside front cover under the toner cartridges
Pull out at a 45-degree angle with a garbage bag in hand
Place in the bag
Go outside before dumping the toner, as it can get a bit messy
Emptying the toner waste container yourself doesn't have to be difficult. Simply place a service ticket with Access Systems, and we will do the dirty work for you. As an Access Systems customer, we will order you a spare toner waste container, so your work doesn't come to a stop.
Recycle Your Empty Toner Cartridges
Instead of throwing away your empty toner cartridges, try recycling them! Recycling is a great way to maintain an eco-friendly office. At Access Systems, we even have a page on our website dedicated to recycling empty inkjet and toner cartridges.
On our website, you will find links to Sharp, Ricoh and Konica Minolta, where you can download a free shipping label to recycle your empty toner cartridges. For HP toner, fill out the form on the page.
With these online resources, your toner cartridge won't join the 60-80% that end up in landfills.
Enjoy the Benefits of Your Eco-Friendly Copier
At first glance, your copier may appear like an environmental hazard; however, it is an opportunity to become an eco-friendly office. You can reduce your pollution with the right settings, reuse your toner waste container and recycle your empty toner cartridges.
Need help making your technology more eco-friendly?
You may be surprised to discover that a managed print service can help you improve the efficiency of your printer and copier usage, saving you substantial money on supplies,equipment costs and more. Explore how a managed print provider can benefit your business.
Contact an account executive today.