Getting a new copier is a huge undertaking. Everyone in your business uses the copier daily to copy, fax, scan and file documents. They are essential to your workflows and business. You want to get a copier machine that will last you for years.
One of the biggest decisions you'll make in this process is to either get a refurbished or new copier machine. You want to get the very best copier that fits your business needs.
Here are 4 questions to ask yourself, when it comes to picking the right copier for you: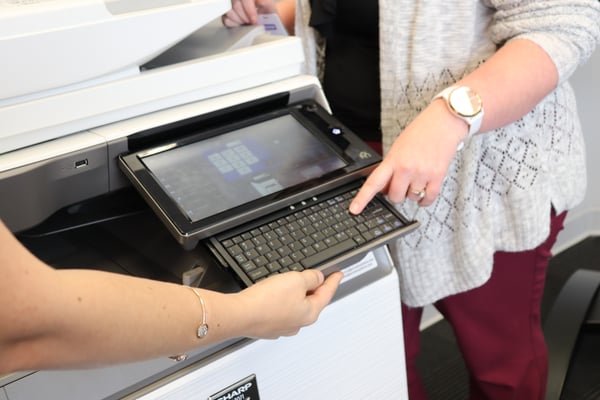 1) How Can Copier Machine Features Improve Your Productivity?
A new copier machine will have the most recent features, while refurbished copiers won't. Features may seem excessive, but everyone in your office uses a copier. They print, fax, scan and copy. Features can improve these processes and eliminate steps to increase productivity and smooth your workflows.
For example, with the right features an employee can scan a document into the copier. Instead of having to take the time to file away the document electronically, the copier can identify key information and send the document to the correct folder on your company's digital storage. Features like this will boost productivity and take over tedious tasks.
You can also add features with a document management software.
What are the differences between leasing and purchasing a copier machine?
2) What Are Your Copier Service Expectations?
Your maintenance agreement, or copier service, is important to consider when picking the right print solution for you, because you want to experience as little copier machine downtime as possible. Machine downtime means work processes come to a halt.
Continuous service requests for an older machine can add up in downtime and cost.
At Access, this is important to our managed print services, which is why we have an uptime guarantee. What is our uptime guarantee? When your copier machine is under contract, Access guarantees it will remain operational with a quarterly uptime average of 95% during normal business hours.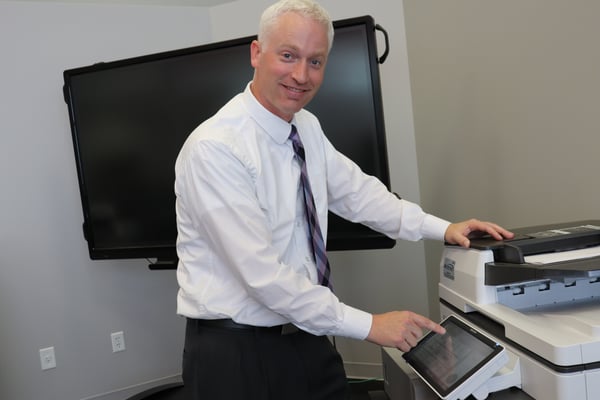 3) Is Your Copier Secure?
Cybersecurity is an essential element to all forms of technology, even your copier machine. Copier machines need to run updates or software patches. Like everything — when you buy something used, there is a risk it is not secure.
Eventually, hardware gets too old to receive the system updates. A new copier won't have this obstacle.
A managed services provider, like Access Systems, can help make sure your copiers and printers are secure and even follow industry compliances, like HIPAA.
4) How Can You Invest in Your Copier Machine?
Cost is a major factor in any business decision. Like a car, a new-to-you copier will have an initially lower price tag, but leasing a new copier machine might be your right answer. A copier machine is an investment that should last you for years without worry.
A Managed Print Services Provider Can Help You Make the Right Decision
Picking between a new or refurbished copier machine is just one of the many decisions to an effective print strategy, but you don't have to do it alone. With a managed print services provider by your side, we will work with you to find the best, cost-effective managed print solution to fit your needs.
At Access Systems, we know one size does not fit all, when it comes to office technology. Which is why we start every relationship with a print assessment. This assessment goes beyond the number of pages a machine prints and dives deep into your business processes and workflows.
Are you ready to start your assessment today? Give us a call or email us today!