You've heard of cyber criminals hacking important corporate hard drives and stealing private data, but did you realize that most printers and copiers also have internal hard drives which can be manipulated?
Whether it is a stolen invoice containing an employee's social security number or a contract exposing private exchanges between you and another business, most documents are private.
Consider everything you have printed or scanned within the last year. What can someone outside of your company do with this information?
Recognizing your multifunction printers and copiers as potential threats can help to ensure you prioritize safeguarding your data. Let's explore some ways these easily neglected devices can comprise your company's security.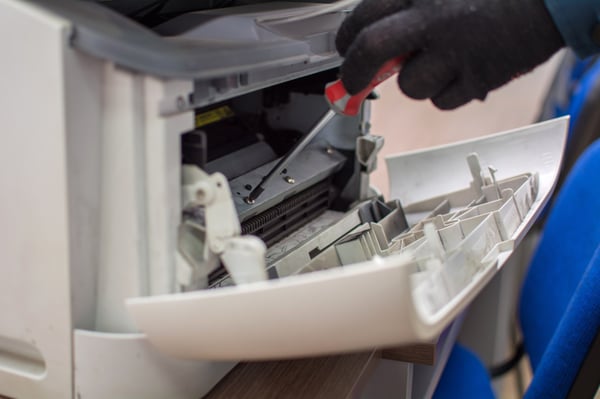 Devices Connected to the Internet Can Be Hacked
That's right— computers aren't the only systems that can be hacked. If your printers and copiers are less than 15 years old (and if they're not, you need an upgrade!), they likely contain internal hard drives.
Most corporations use business-grade, web-enabled laser printers and copiers that serve as entry points for savvy hackers. If your devices are not properly secured, there are a number of sneaky ways information can be comprised.
Your print jobs can be re-routed to another device outside of the business or saved copies of documents on the drive's memory can be accessed and then printed elsewhere. Even password-protected devices can be hacked, making hard drive security a high priority.
Stored Data Could be Recovered
Because data can be stored inside of your printer and copier devices, physically putting these devices in the wrong hands could mean disaster for your business.
Your machine can be stolen during a break-in, or you can return a leased piece of equipment or sell a refurbished model without removing private information. For a business in a medical field or those who exchange patient or customer data, this could be a HIPAA violation waiting to happen.
Most devices clearly spell out in the instruction manuals how to delete the data on the hard drive, so if you are planning to get rid of a printer or device (or if you purchase a used device), ensure you clear the drive properly.
Many experts will advise you to clear your device's cache every few months as a safety precaution against cybersecurity threats. Although clearing your device's cache memory regularly can certainly be a deterrent, it will not stop the best hackers. You may need to take additional measures, such as encrypting your hard drive or establish user authentication with the help of a trained security professional.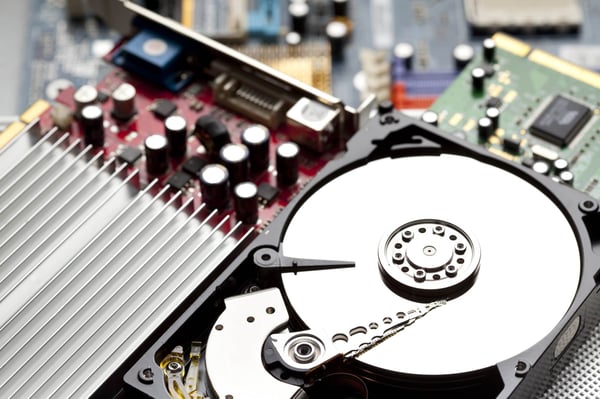 You Could Become a Host for Malicious Files
Not only can a cyber thief steal your data, but they can also use your printer or copier to store or even host malicious files, like illegal materials that you can ultimately take the fall for.
What's even scarier is that without a proper firewall, or if you have a publicly accessible IP address, threats like these can go completely unnoticed by your staff. They can also be nearly impossible to trace the origin, because the only evidence of their tampering is in your network logs.
Threats Could Easily Sneak Past Your IT Department
Hackers do not do anything to indicate to your IT staff that there's a "problem." Their code runs quietly in the background— and even your IT crew, who may excel at fixing broken equipment, can be blinded when everything appears to be operating smoothly.
These threats can come in ways you least suspect. For instance, your HR department can receive a resume to their printer and think nothing of it. Secretly, this file can be topped with hidden code. Avoiding your computer's firewall, this code still lives on your printer, which ultimately connects to your team's entire network and is triggered each time an employee prints something new.
Don't Miss These Network Loopholes
Not including your network-connected printers and copiers into your overall security strategy puts your business at risk for potential breaches and all types of cybercrime.
With all the confidential information you have printed, scanned or copied in the past year, what are you doing to protect your business? Find peace of mind knowing your data is secure by seeking advice from industry professionals, like us.
Our certified technicians excel in cyber threat intelligence and can install security features that will stop your information from being stolen and keep outside threats out. We can also advise you on best practices for securing all the devices across your business.
Explore our Managed Print Services page and contact us for additional support and services.