Unified Communications for the Modern Business
Have you ever needed to take a business call on the road?
Or, unfortunately, had a terminated employee take contact information with them on their personal device?
When you have a traditional system, these are common scenarios. You are limited by the equipment in the office, but business doesn't only happen sitting at your desk. Your employees are constantly on the go, and customers expect to reach you no matter where you are.
Gone are the days, you have to call into the office to check your voicemail. Either your team is making calls from their personal device, or they are unreachable. Your business needs more flexibility than immovable equipment in your office.
You need your communications to fit your business.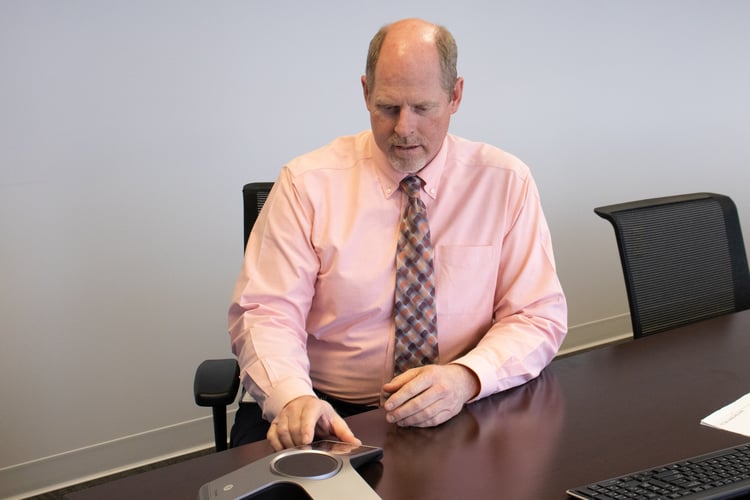 Take Your Business on the Go with a Cloud Communications Solution
How many of us hand out our personal number to customers, because your office device is chained to your desk?
A cloud communications solution will allow you to be constantly connected to your office number. There's no longer a need to give your customer your personal number or carry a personal and work device. The one device in your pocket can be your communications tool.
Today we live in a connected world. You and your employees are probably already using your cell phone for work, so why not have it be part of your business system instead?
With cloud communications solutions, you are given more flexibility while still professionally using the office number. Increase productivity and accountability with features like texting, video meetings, and management monitoring.
So, How Does Cloud Communications Work?
Cloud communications use Voice over IP, or VoIP, and hosted PBX technology to streamline your business communications system. The internet, which you already utilize every day, becomes your phone line.
While traditional, on-premise phones limit users to their desks and are reliant on the phone lines working, Hosted PBX is managed off-site in the cloud. Being able to switch to the internet or data eliminates the worry of service being disrupted; due to a strong thunderstorm or phone lines being cut because of construction, helping your business maintain continuity. With cloud communications, your number is always available.
Learn more about the differences between cloud communications and traditional, on-premise phones in this article.
Unify Communications with a Cloud Communications Solution
With a unified communications approach, cloud communications use the devices you already own. With an easy-to-use app, your laptop, tablet, cell phone, and VoIP desk phone can all become your office device.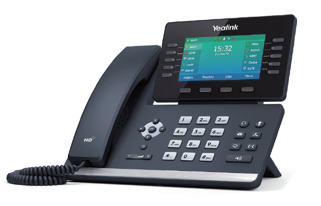 No More Missed Opportunities
With your business communications in the palm of your hand, your team won't miss out on opportunities to be in touch with current and potential customers.
The cloud communications platform allows your users to have more capabilities than just calling. You can text from any device and even set up conference bridges and video meetings!
Don't worry about your fax capabilities. With cloud communications, hosted fax streamlines your processes. You can:
Send faxes with a laptop, desktop computer, or even a smartphone
Track, store, or resend faxes anytime
Receive faxes through an email or retrieve them inside the portal
Communicating from your business devices has never been easier!
Stay in Touch with Your Team
Communicating better isn't limited to your customers. Your employees will be able to collaborate better as a team. With cloud communication, your team can host internal video meetings, which provide better work environments. You can also see when coworkers are on a call, so time isn't wasted standing around someone's desk waiting for them to finish their conversation. Or better yet, use the instant messaging and SMS (text) feature to communicate, when a voice conversation is not possible. All these features allow your team to streamline processes and boost productivity.
Supervisors also benefit from the analytics the cloud communications solution can provide. The platform has more reporting options than your traditional business phones. You can:
Record phone calls, including conference calls
See a history of communication
Monitor when an employee is on the phone
All with the goal of improving your internal communication. An added call center feature can even allow you to have more analytics.
Secure Business Contacts
When your employees use the cloud communications platform, it opens the door to many possibilities. First, all the business contacts they are working with day in, and day out are saved in the platform, not their personal device. The business contacts are all in one place, safely protected from any rogue communication.
Control Your System Without Entering the Office
By adding an "Office Manager", you can edit your system from anywhere without the need to log in to a device on-site. This is all handled through a web browser.
"Office Manager" allows you to revise multiple areas of your system, including
Managing your own users. Easily recycling extensions with employee turnover without needing the help of technical support.
Accessing the communications system outside of the office to forward numbers in the event of bad weather or unexpected office closure.
Editing any Auto Attendant Menus with ease from your web browser.
Access Cloud Communications Solutions (ACCS) Is the Answer
Our world is always go, go, go. So, why shouldn't your business communications system move with you?
At Access Systems, we provide our customers with the most reliable unified communications system. We listen to your needs and will help choose the right features and settings for your cloud communications solution.
While other unified communications providers will sign you up for a service 'package' that is undefined, Access Systems provides quick, local service to keep you up and running, because your success is our success.
Unified Communications Changes Your Business for the Better
With ACCS, you will be more connected than ever to your customers and employees. Cutting-edge features, like text messages and video meetings, mean you won't be unreachable when you walk out of your office doors.
As unified communications move closer and closer to IT, Access utilizes our extensive IT offerings to support ACCS. The remote, communications technicians are stationed in the Network Operations Center among the IT technicians. They have access to all its resources including the analytics and team collaboration. As a company founded on skilled IT professionals, Access Systems has the resources and skills to support your cloud communications solution.
ACCS will keep your office connected.
Make sure you are partnering with the right business phone provider: 7 Questions to Ask Before Choosing a Telecommunications Provider
Contact Us Today