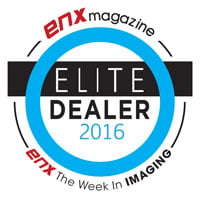 Access Systems has once again been recognized by the copier industry, when they were chosen as one of ENX Magazine's 2016 Elite Dealers.
ENX Magazine, an industry publication, has been releasing their list of elite dealers across the United States since 1988. They choose their industry-leading winners based on a dealerships' willingness to adjust to achieve a goal, employee relationship development, awareness of the latest technology, marketing program development, community service and volunteerism, and a focus on service.
Access Systems was one of two Iowa-based companies to be chosen by ENX to make the list. Access was ranked on the list for dealers that generated revenue between $20 million and $50 million.
In their publication, ENX Magazine listed why they consider Access Systems to be elite. The Access team is elite because of the strength of their IT services, an effective use of social media to engage with vendors and potential recruits, recognition by partners like Sharp, Ricoh, Microsoft, and GreatAmerica, a thriving corporate culture to support employees and incentives for performance, and support for their local communities.
Access Systems is thrilled to once again be honored among some of the best copy and print dealerships in the country. The team was also recognized in 2015.
To see the complete list of winners, check out ENX Magazine's December 2016 publication, or click here.