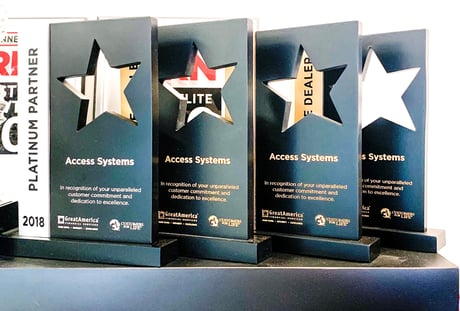 Access Systems is honored to have been awarded with the 2018 GreatAmerica Platinum Partner Award. Access has been recognized with the GreatAmerica Prestige Award since 2013, and we are thrilled to have been awarded the Platinum Partner award this year.
"We are fortunate to work with such a distinguished company as Access System. You possess the vision, excellence, and dedication needed to excel in the evolving industry we serve," wrote Jennie Fisher, the Senior Vice President of the office equipment group for GreatAmerica, in the letter announcing the recognition.
In 2017, GreatAmerica celebrated its 25th anniversary of being in business. GreatAmerica's CEO credits their success to the partnerships they have built during that time, saying "our longevity and success has had everything to do with the bond between our loyal partners and our exceptional employees."
Access values our partnership with GreatAmerica and is thankful to work with a company that values its customers and employees as much as we value ours.