Access Systems has been named an Iowa Top Workplace for the 6th year in a row. See how their emphasis on workplace culture has led them to this achievement.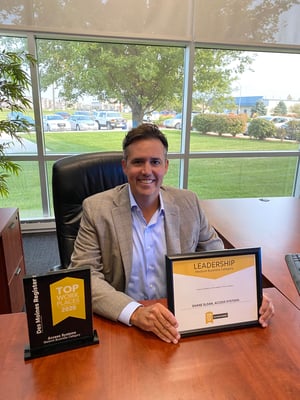 What is Iowa top workplace?
The Iowa Top Workplace is a prestigious award handed out by the Des Moines Register that the entire state of Iowa can participate in, the only qualification being that the business employs more than 35 people. The DMR states that it is a stand-out way for employees throughout the state of Iowa to see how they compare to other businesses in the extremely competitive marketplace. This award is split into three categories, small-, medium-, and large-workplace categories. The workplaces that participate are given a 24-question survey to hand out to the entirety of their company, and then ranked based on the results of that survey. Companies are then able to purchase the full results of the surveys. Also based on the specific survey answers, companies can also receive additional specialty awards.
Who is Access Systems?
CEO Shane Sloan purchased Access Systems in 2005 and has experienced substantial growth since then. What is Access Systems you might ask? Well, Access Systems is mid-sized company specializing in office technology solutions. Managed print services, managed IT services, and phone systems are what Access is best known for.
This year, 2020, will mark the 6th year in a row that Access Systems has been named an Iowa Top Workplace. Making the list is no easy feat, as we had to compete with approximately 116 companies to even place on the list for midsize companies. Last year, Access was named the overall number 1 workplace in the mid-sized business section.
How our employees make us great:
Access Systems is a top workplace because of the people we employ. In an average workplace, only 58% of the employees are considered engaged in their work, just barely over half. Compare that to Access, who had 83% of their employees engaged in their work, with over 18% of them enthusiastically engaged, that shows a huge reason as to why Access is considered a top workplace. Our employees are not only working hard in their positions, but another group of our team are bringing a level of excitement to their job. Without them, Access would not be what it is today.
When our employees are given a task, they not only meet expectations, they go beyond what we could have imagined. They are often expressing their ideas on how to improve existing company procedures, and always looking to make things more efficient for both the clients and employees. Recently, the sales managers collaborated to create a new training track for our incoming sales team. This has already received extremely favorable feedback.
How we make our employees great:
In 2019, Access Systems was voted the number 1 workplace in the mid-sized business category. Results are based directly off the employee's response to the Top Workplace Survey that is sent in. In addition to winning the top spot, Access also won the "Direction Award". This award means that the employees are confident in Access' leadership, and that they trust and believe in where the company is headed.
We enable our employees to grow by giving them to tools to drive their own success, and the opportunities to make a difference in the workplace. The technology world is constantly changing and ever evolving, so it's imperative that we invest our time in inspiring and motivating our employees to grow as well. Check out some of our examples on how we make our employees great:
After coming off winning the top mid-sized company, we wanted to take our culture to the next level. Our solution was to implement our Culture Ambassador team. Our Culture Ambassadors are located across the 14 different branches and are designed to keep our culture consistent despite the mileage between the branches. The culture ambassadors plan employee appreciation events, Access Cares events, and keep the employees "in the know" of any changes or things going on at Access Systems. We believe this shows our employees how important they are to the function of Access Systems.
Access Cares is a huge part of the work culture at Access. This is often because an employee is on the receiving end of the benefits. Some of our employees have had various needs for the additional support from Access, whether it be a medical diagnoses for themselves or their kids, car accidents, and even unexpected storms that damage entire towns. When we hear there's a need for support for someone in our company, we don't hesitate to start crafting ways on how Access can make a difference.
During this difficult time, Access did its due diligence to protect both their employee's health and jobs. Company-wide emails were sent weekly, and sometimes multiple times a week, to make sure all the employees were aware of what the company was doing in response to the COVID pandemic. CEO Shane Sloan sent emails himself to ease the mind of any worried employees. From the onset through September, there were no layoffs, and there haven't been layoffs in the 15 years that Shane Sloan has owned the company. Many employees were given the option to work from home and were brought back slowly and in waves to mitigate the exposure. Access arranged for a doctor to give a short presentation to educate and answer employee questions.
Why Access participates in the top workplace and why it's important
It's important for Access Systems to participate in the Top Workplace survey so our team members have a voice and it shows the strong culture that we all work so hard to maintain. By receiving an award for being a Top Workplace, we can "put our money where our mouth is" versus making a statement with no clear way to back it up. New hires can feel confident that they are accepting a position at a company that will value them, while seasoned employees may feel a sense of pride for their workplace.