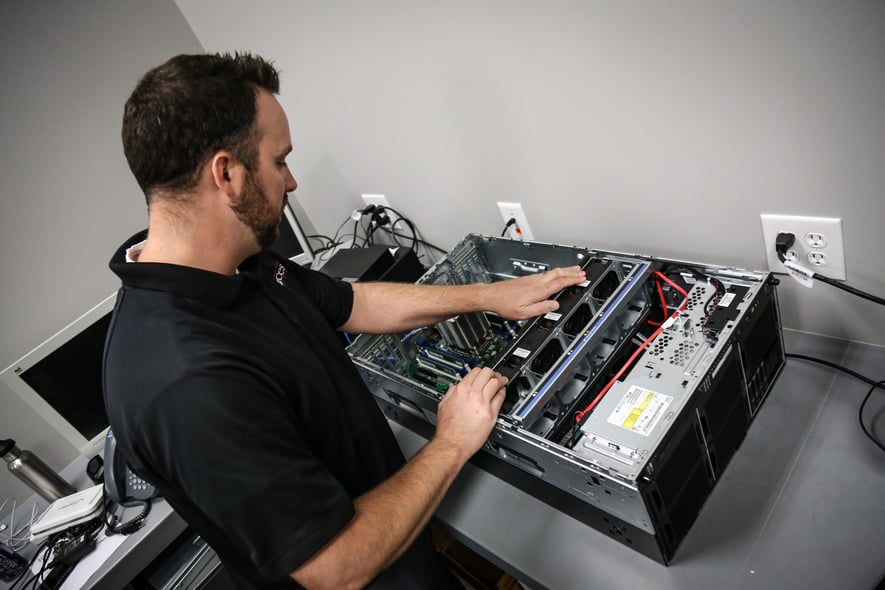 When your office technology doesn't work like it's supposed to, it can slow down your business. Placing a service ticket is important for us to fix your problem, whether completed remotely through our Network Operations Center (NOC) or by sending a technician from one of our many locations to your office.
With our first call effectiveness at eighty percent, you won't normally have to wait around for a technician to make multiple stops to your office. Many times, a NOC technician can remote into the machine and resolve the ticket in thirty minutes or less. If a field technician is needed or preferred, they are equipped with the parts your machine needs. This allows us to complete your service ticket the first time.
But, how do you place service tickets?
Three Ways to Place a Service Ticket
We want to be as reachable as possible, that's why we have many ways available for you to place a service ticket. You can reach us Monday through Friday 8:00 a.m. – 5:00 p.m. by phone, website or email.
Give Us a Call
You can call your local branch number or the toll-free number at 888-464-8770. Our phone team will ensure your service ticket is created and gather all of the information the technician needs.
We recommend calling for all urgent tickets, so the ticket can be escalated appropriately.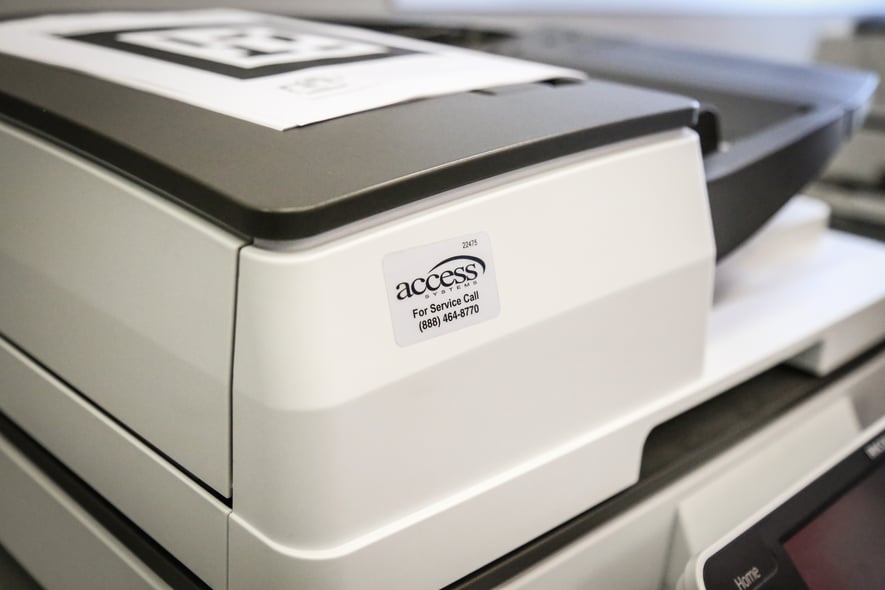 Send Us an Email
In the email, describe the problem you are having and any information that may be helpful. If applicable, include any screenshots that may help the technician. If your issue is urgent, include 'URGENT' in the subject line.
As soon as we receive your email, you will automatically receive a response from our system with a ticket number and description of your issue. Ensure you are contacting the right department for the quickest support:
For IT support: techsupport@accesssystems.com - You will receive automatic updates every step of the process.
For Phone support: phonesupport@accesssystems.com - You will receive automatic updates every step of the process.
For Copier support: copierservice@accesssystems.com - Please include your tag number. It is the number in the top right corner of the Access Systems sticker on the machine.
Submit an Online Form
Another way to place a service ticket is through our Service and Support page on the website. Just like with an email, the submission will become a service ticket automatically, and within twenty minutes, you will receive a response with a ticket number and description.
Emergency After-Hours Support
Not all issues happen conveniently from 8 to 5, this is why we have emergency after-hours support. To reach our after-hours support, simply call into the office. You will be guided through our after-hours service and the on-call technician team will be notified of your need*. For emergencies, the on-call technician team is only a phone call away.
*Please note: after-hours support is not included in all contracts, so it may be an additional charge.
Smileback Feedback

After your service ticket is complete, you will receive a Smileback survey through your
email. Please remember to fill this out and tell us how we did. Your feedback helps us improve!
Thank You for Choosing Access Systems as Your Total Office Technology Provider.
When technology is down, it can halt your business workflows. With Access Systems, you shouldn't experience significant downtime. Providing superior service is a pillar of our company, which is why we have so many different options for you to place service tickets with us.