At Access Systems customer service is the foundation of what makes our, and ultimately your, business successful. Access employs technicians that are passionate about solving customers issues and providing the most consistent and reliable service in the industry with every call. Our technicians deliver solutions and go above and beyond for customers they are serving. We believe it's so important that we developed our own facilitator-led customer service training that all techs master.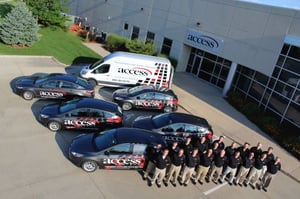 Tenure and Expertise
When committing to a multi-year agreement, there is security in knowing that your partner is stable, experienced, and dedicated to your success. Technology is the backbone to every business and Access Systems has over 50 technicians whose primary function is to help keep your technology up and running.
Have you asked your technician how long they have been in the industry? Do you know their mechanical aptitude? Access is proud to share that our average tenure within our copier technicians is more than 20 years and our Vice President of Service has been in the industry for 34 years. This expertise and our continuous learning programs have been recognized by all three of the major brands we represent, Ricoh, Sharp and Toshiba.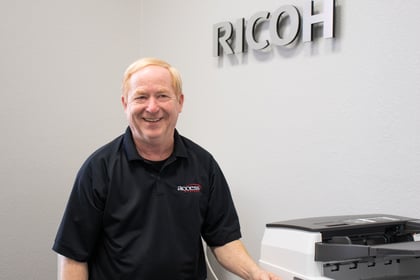 Mark, a 23- year service technician vet, explains that "the vital factor to set Access apart from all the competitors in the industry, is our experience". With this experience, Access has multiple resources (technicians) to bounce ideas off and go to for elite knowledge and expertise. Superior service and a team of technicians who always have the customer's best interests in mind is a recipe for success.
Building Powerful Relationships
Being consistent with communication and having the ability to empathize with clients is essential in building relationships. We assign techs a designated territory, which means our customers see the same friendly face on a regular basis. We want to get to know you and understand your needs so we can better serve you. We put an emphasis on building a strong relationship with you and ensure that in our technicians.
"When you demonstrate the skills of communication and empathy, success will always follow." -William, Technician and Trainer for 18 years
In the field, William explains that the key is showing confidence but not in an arrogant way. "Customers need to feel comfortable in working with Access and feel valued." Customer relationships are crucial here at Access, and they are not built overnight. Access technicians do not take their relationships for granted and take pride in the ability to instill loyalty with customers. Therefore, we get positive word of mouth [referrals] and the ability to expand our relationships with even more customers.
The service team travels to our customers in various industries and builds strong relations with them. It is important to get to know every customer and develop trust. When the relationship is fostered, it keeps the connection strong and builds a long-lasting business partnership.
Work Ethic
Two of the core elements that Access has been built on is integrity and work ethic. Shane Sloan, CEO and owner, has always said you need to have both to work at Access Systems. Our service team is dedicated to Keeping Offices Connected TM and they do that by leveraging the entire team. You do not just have one tech helping your company, you have over 50! There is great communication between the technicians, and they put a strong emphasis on working cohesively.
The service team understands the importance of being flexible and being able to adapt on the job. Not every service call is easy, and it can be challenging when the customer is unhappy. It is under these circumstances that you want the expertise, work ethic and collaborative approach to resolve your issue. Each tech cares about performing well and about staying in tune with our customer's business needs.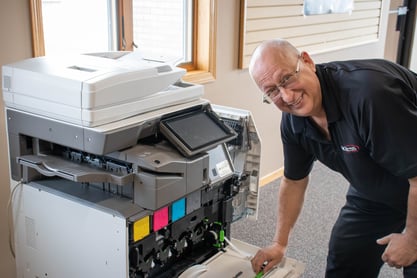 Many in this industry have migrated to a "just-in-time" delivery method for parts. Not Access - we have inventory on hand. If clients are not able to print, then they are not able to make money. To that end, the team will prep common maintenance parts, so they have things ready before its needed to get the customer up and running as soon as possible.
When the techs encounter a more difficult or uncommon issue, they must utilize past experiences and the teams' collective knowledge to solve the issue. A common attribute among our techs is the sense of satisfaction they get when they resolve a particularly tough issue – it is one of the things that keep the job interesting, and our techs engaged. The work can be stressful at times, but grit and determination pay off in the long run for not only Access, but for the customer too.
Culture and Development
Access invests in our people to set us apart. We have been a Top Workplace since 2015 and that is because of our team. It is our employees who cultivate our culture and family atmosphere. We consistently build trust and invest in our employees, which then translates into retention.
Jeff has been with Access Systems for six years as a part of the Copier Service Team. Prior to working for Access, Jeff worked for a small IT company that was acquired by Access. He was an administrator before working at Access and was excited to get back out in the field. From setups in the warehouse, to desktop models, to business and now production level models, Jeff has worked his way up learning as he went and earning greater responsibility. 
Access promotes from within and has created a robust internal training model with William leading that charge. Technology is ever-changing and we are committed to having the most up-to-date training available. Jeff shared, "Access' supportive and encouraging culture has been instrumental in my growth."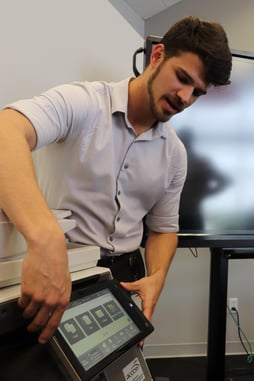 The training that is done at Access is vital to our success. Some manufacturer's service training is based on demand and not very flexible with employees. Here at Access, we train an employee based on when that individual needs the training, not when a manufacturer decides they have time to do it. Our new team members receive considerable training right from the start. During this training they build personal relationships with each of our tenured technicians, and we adapt to their individual learning needs. With larger companies, when techs go to training, they are with large groups of people they will never see again, and it is an impersonal experience. With our team-centered learning approach coupled with talented trainers and technicians like William, Mark and Jeff, Access develops elite technicians that provide exceptional service.
Don't you deserve the top-notch service Access Systems offers? Come join our growing list of not just satisfied, but elated customers!