If your copier is jammed or needs a drum replaced, there's no reason to worry!
After placing a service call, our on-site copier technicians are the best in the business and will get you up and running in no time. They have the skills, resources and customer-focused attitude to get your copier or printer repaired.
1) Our Copier Repair Technicians Have Expert Training
Expertly trained copier technicians are essential to getting your copier up and running. At Access Systems, our factory-certified trainer conducts instructor-led training.
While many companies are moving toward computer-based training (CBT), we have found that a combination of CBT and instructor-led training to be more successful in learning the equipment and repair procedures compared to training that is solely computer-based.
Instructor-facilitated training allows copier technicians to ask more questions and receive immediate answers. The role requires a great deal of mechanical aptitude to work on a variety of models. For this reason, we ensure our technicians have worked under the supervision of experienced technicians before going by themselves on service calls.
A well-rounded training have specific training based on the copier technician's territory. Different areas have different business needs, and by providing our on-site technician's with specialized training, we make sure they feel confident to assist our customers.
2) Our On-Site Copier Repair Technicians are Customer-Focused
At Access, our processes focus on the customers, which includes your on-site copier repair technician. While other managed print services providers may push their technicians to achieve specific statistics, our technicians are trained to focus on customer service, not numbers and reports. Customers should always come first.
The on-site technician's goal is to leave the site with the customer happy. This is why Access conducts on-going, instructor-led, customer service training. The training brings together both new and experienced technicians. This environment allows them to learn from other people's experiences and problem-solve together.
3) Our Team Gets the Job Done Right, the First Time
First call effectiveness is essential when it comes to copier repair. It means the technicians won't have to stop at your office multiple times; instead, they are able to get you up and running the first time they stop at your office.
It all starts before the technician even arrives on-site. Someone at Access Systems will be in touch with you soon after you place a service ticket. This call may be your on-site technician calling to give you an estimated time of arrival, or it may be a remote support technician calling to see if they can solve the issue over the phone.
Once the on-site copier technician arrives to the site, they will reach out to the main contact who placed the call to gather more information about the issue.
Then comes the mechanical portion, where the copier technician will resolve the issue you are experiencing. Beyond fixing the immediate issues, our copier technicians run tests to identify any problems with your equipment that may be just around the corner. Running preventative maintenance diagnostics ensures your copier experiences optimum uptime, meaning you won't be calling us again in the near future about this machine.
Our on-site technicians do more than just standard break / fix work. They are empowered to do preventative maintenance and use all resources available. With customer-focused copier repair, preventative maintenance keeps your copier properly running and gives it a longer lifecycle than a neglected machine, saving you time and money.
This level of service is an investment in our copier technicians, customers and in-stock parts. While some companies may limit their technicians to the amount of parts to which they have immediate access, Access Systems does not. Limiting parts means machine downtime and a second visit.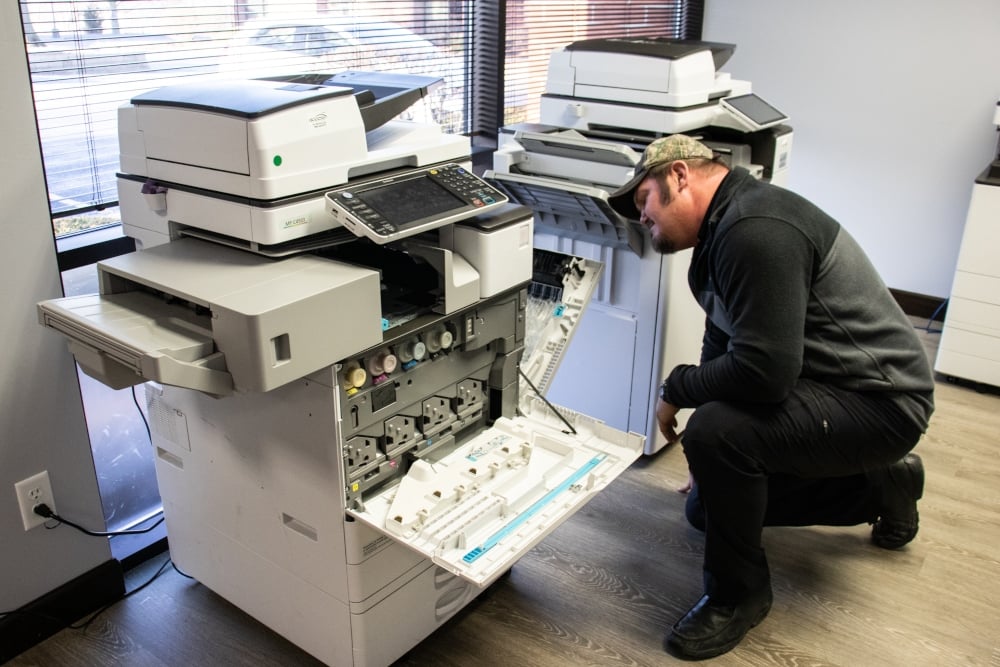 Keeping the technicians' cars fully stocked with the parts they see on a regular basis means more effective first calls, less downtime and better customer service.
If the technician doesn't have a part they need, they have an option before defaulting to ordering the part. They can:
Use the real-time, inventory software to look at the entire company's inventory
Meet up with another Access technician who has the part in their car
The process, preventive maintenance and access to parts, are all reasons why our on-site copier repair technicians have an 80% first call effective rate, company wide.
Trust Our Elite Copier Repair Service
Partnering with an expert who educates and empowers their on-site copier technicians to do more than just fix the immediate problem is imperative to managed print services.
Experience less downtown and make fewer service requests with our help.
Still not sure Access Systems is the right managed print services provider for you? Check out these 13 Eye-Opening Questions about Your Office Printing.