In today's rapidly changing business climate, the need for immediate and convenient information is paramount for the communication demands of both businesses and consumers. The internet continues to expand its reach, and the availability of high-quality bandwidth is now reaching all corners of the world. In addition, the use of smart devices (internet-driven, electronic devices) are in the hands of just about everyone.
The days of traditional forms of communications, like office phone systems, are beginning to be replaced with convenient applications. With this demand, there is an increase in the need for those services to be available via the Cloud. Many of these services are readily available from a wide-variety of internet-based companies. The challenge, for many, is the ability to choose what services are right for them, and which providers will be able to deliver the services needed for their situation.
But why should you switch from your traditional phone system to cloud communications?


Traditional, On-Premise, PBX Phone Systems
As you probably know, the typical phone system is very limited in functions. It is reliant on the capacity of the staff and users to be in the office to use any of the features.
Some more recent phone systems have expanded to allow voicemail to be sent to e-mail and even some limited ability to forward extension calls to a cell phone. In either case, it is still reliant on the phone system to have power, and the local phone service provider to have their phone lines working in the building. Power and phone lines can be put out of service due to weather or unexpected cuts to the lines that run to the building, often from nearby construction.
Typically, most users of this type of phone system view it as only useful while at the office. Because of the need to have more flexibility and potentially needing to work outside the office, employees start calling with their person cell phones. When employees are controlling communications with their own forms of uncontrolled, untracked communications, it is nearly impossible to be able to understand what has happened, what is happening and what may be happening in the future.
The primary reason for this rouge form of communication evolution is typically because there is a void in providing a company communication platform that fills these needs. Many companies are beginning to recognize this and are turning to solutions and providers that can bring this to their organization.
Find Your Answer with a Cloud Communication Solution
Oftentimes, companies find that because their employees have migrated to utilizing their own forms of communications, the company has now lost any ability to know what is being communicated to and from their organization — but there are options.
A very large number of businesses are transforming their business' phone system to a cloud communication solution.
One of the key advantages to switching to a cloud communication system is the end users are no longer reliant on having equipment or physical phone lines in their facilities. They are not limited to using a traditional desk telephone or having to be in the office to gain access to all of the features.
This eliminates a great number of potential points of failure compared to a traditional phone system. Even if power or internet is lost, the company phone lines and phone system is still up and running in the Cloud (via a hosted location). Your business numbers, and even staff's direct numbers are always available to not only your customers but to your staff as well, regardless of the status of your office, or the location of your staff.
Calls can be routed directly to users, on just about any device. Most people have some form of smartphone that is with them nearly every day. Being able to use it as their work phone is the key to keeping your company connected to your customers.
A cloud communication system allows you to access all of the features needed to maximize your communication to your employees and customers, without the need for a large IT infrastructure, equipment or on-staff IT/Telephony resources.
In addition, you are able to leverage the technologies you have already invested in, like PCs, laptops, tablets, and smartphones. The ability to use features, like Instant Messaging, will decrease the high volumes of internal emails that fill inboxes and increase productivity. Features like texting from your business number vs. your employee's personal cell phone numbers means your employee can be held accountable for their communication with customers.
Often, conference calling and even web conferencing, are critical ways to communicate information, allowing people to collaborate and share documents in real time with video, without the time consuming, high expense of travel.
In addition, cloud communications analytics surrounding the use, change, movement and loss of corporate communication is extremely important for not only planning and forecasting, but most importantly, the ability to evaluate and make changes to improve performance. Having all of these features within a single, user-friendly platform, is the key to eliminating the use of employee one-off technologies that create bottlenecks, and huge security risks to the company.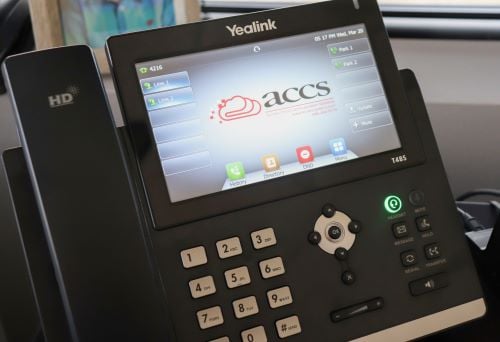 Discover the Power of Access Cloud Communication Solutions
These are just a handful of the many features available with Access Cloud Communication Solution (ACCS). Learn more about ACCS here.
Our telecommunication experts will work with you and your business' needs, so you can get the best use out of your cloud communications solution. Contact us today or give us a call at 888-464-8770.