Do you know just how much you spend on office printing? Even if you're unsure, it's always a win to reduce costs. You may be considering a cutting-edge document management software to help manage all your printers and multifunction devices.
For many businesses, investing in the right software is a wise decision— for a number of reasons. Here are six ways a document management software can benefit your company, no matter the size: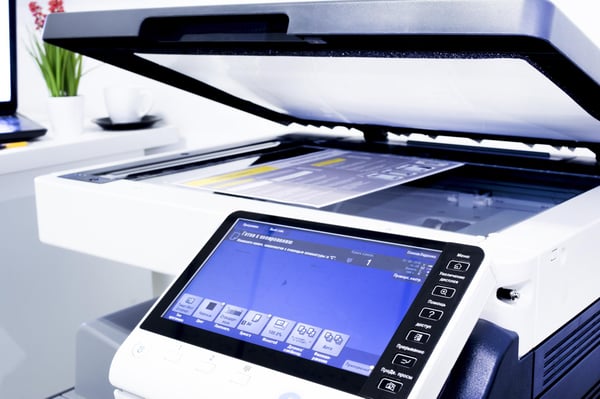 1. Document management software can increase your security.
Many businesses house sensitive data, which if leaked or shared with unauthorized eyes may threaten your reputation, break compliance or cost your company a lot of time and money during recovery.
When hunting for a document management software, ask to see how the program will help to protect your files. Savvy criminals can hack printers or copiers' hard drives— or gain access to your network servers— and seize data. Or, print jobs can be stealthily rerouted to other devices outside of the office.
Document management software often features permissions or user authentication measures to increase your security. For example, PaperCut's Secure Print Release can require a card swipe or an account code to release or collect certain documents. In addition, enterprise content management software (ECM), like one we use at Access—Square9— stores all documents in a secure and compliant file system location. This can not only help to control internal sharing, but to also protect your data from cyber attacks.
2. Document management software can prevent data loss.
Certain document management software or solution providers will backup your files to prevent loss of data, should the originals be compromised. Not only will these softwares or managing companies store copies of your documents— on cloud-based servers in the event of device theft, damage or file corruption—, but many also can help formulate a recovery strategy should disaster arise.
Here at Access Systems, we choose Digitech Systems for many of our clients enterprise content management, particularly for its ImageSilo® feature. It not only allows for secure access of data from any place, but its cloud document storage means that even in the event of disaster, you have an extra copy of all your important files.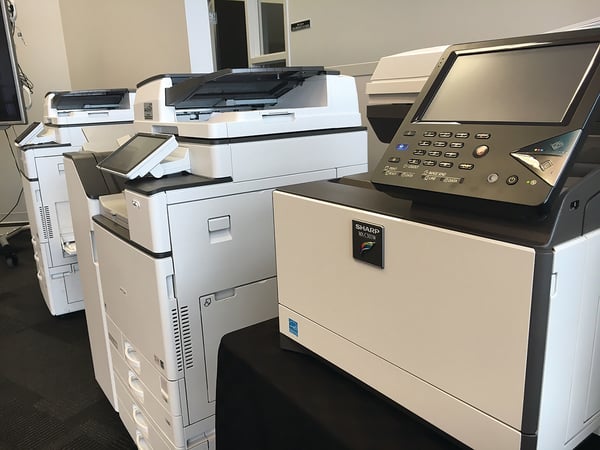 3. Document management software can help you stay compliant.
Certain industries must adhere to strict compliance or legality to protect the identities of their customers and the valuable data they store. Should a patient's personal information get into the wrong hands, this can be HIPAA violation waiting to happen. Check out these steps to make sure your copiers and printers are HIPAA compliant.
The right document management software can help to regulate rules, only allowing access to certain employees and reducing the likelihood of misuse. It can also help you to define document retention scheduling, or how long a file needs to be stored to meet compliance before being effectively erased.
4. Document management software can eliminate sorting woes.
Businesses still storing documents in paper form know how hard it can be to keep files organized. Even if you color code your file drawers, it can take a long time to find or keep up with storage. Other large companies may have trouble keeping all their online files properly sorted and accessible to multiple users.
A document management software can help you to store all your files on a single platform, where your employees can search for files using keywords or phrases— for convenient and quick retrieval. This electronic organization can also help ensure version control, or that your staff is referencing the newest version of the document with easy date sorting.
5. Document management software can help you reduce waste and go greener.
The right document management software will enable you to go green by monitoring and regulating your print jobs. Certain softwares, like the one we use at Access,— PaperCut— can help encourage responsible printing by enabling policies or print rules. Or, it can warn you when you're getting close to reaching a set quota.
So if you determine that your small business shouldn't print more than 200 pages a month, you can stay on top of your goal and reduce your environmental impact. PaperCut features at-a-glance reporting on CO2 (by volume of tree) and carbon emissions to inspire you to cut down on printing and motivate employees to be more eco-friendly.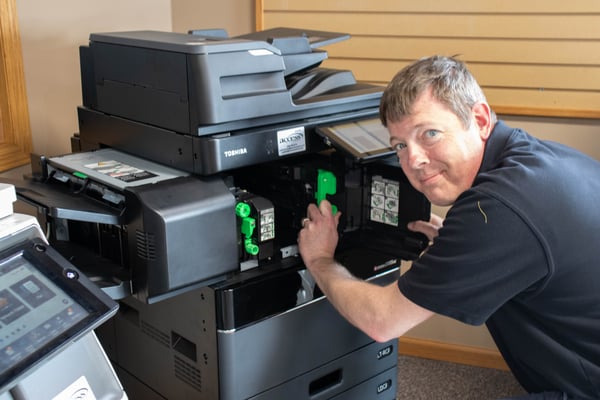 6. Document management software can save you money.
Perhaps one of the most motivating reasons businesses opt to use a document management software is that it helps you to save money. When it comes to paper-based, data storage systems, your system requires expensive supplies like paper, ink, filing cabinets, folders, staff to organize, etc.
Digitizing your documents and organizing them with the help of document management software puts you in control of how often you're printing. You'll be able to view copy, print, fax and scan reports to understand your usage and make changes to better adjust your spend. Paired with a fleet manager, you'll get competitive prices on ink, toner and other supplies as well to reduce printing costs.
Looking for the Right Document Management System?
While a document management software can certainly help you to increase your office's productivity, cut costs and improve the availability and security of documents, it's only one step in a holistic fleet management system.
Here at Access Systems, we offer a variety of document management solutions from software to services that help you do more work with less paper.
Learn more about our Document Management Solutions. Or, see our work for yourself by viewing our Printer & Copier Management Case Studies. The downloadable PDF outlines two real companies and how our team helped them reduce print costs and save valuable time.