Everyone who works with healthcare knows HIPAA, the Health Insurance Portability & Accountability Act. It is a continuous struggle for healthcare organizations, especially when technology is involved.
Your organization probably has checked all the boxes, when it comes to your computers, software and network, but have you considered your copiers and printers?
Is your print strategy getting an A+ from HIPAA?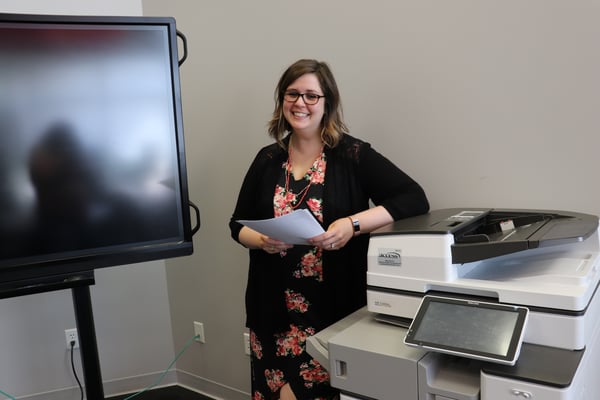 How Does HIPAA Compliance Impact Your Copiers & Printers?
Copiers and printers are an often-forgotten aspect of security for any business, but especially in healthcare.
Your copier is a staple in your organization:
Employees print papers
Other healthcare facilities send faxes
Paperwork is digitized and stored in a database
Your printing devices touch every aspect of your healthcare organization and the protected health information (PHI) defined by HIPAA. It stores the PHI data sent to it every day. Have you protected this information?
Most organizations that handle PHI we meet lack the business policies to protect the data to HIPAA. What steps can you take to make sure your copiers and printers are HIPAA compliant?
Steps to HIPAA Secure Printing
Secure printing is essential to your HIPAA compliance. There are steps you can take to protect the data your copiers and printers store.
Step 1: Keep Copiers & Printers in a Secure Location
As real-estate agents say: location, location, location.
One easy fix to secure printing is to place your copiers and printers in secure locations. By limiting physical access to your printing devices, it prevents unauthorized people from swiping papers they shouldn't be reading.
The copiers and printers don't have to be in their own back closet. The ideal location is:
Not accessible to the general public
Next to someone who can monitor for abandoned print jobs
Accessible to the employees who need it most
Even just changing the location of your printing devices can better secure PHI.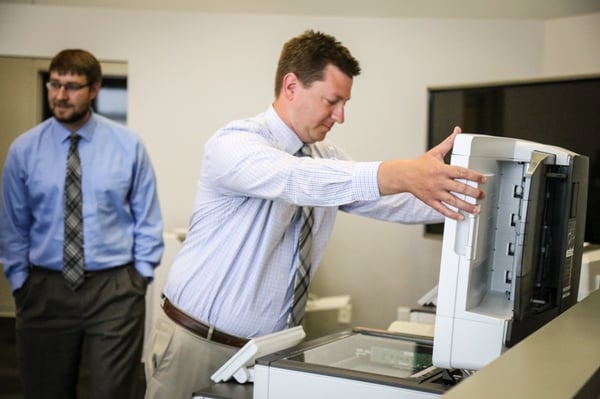 Step 2: Employees Authorize Printing at the Device
Instead of sending a document directly to the copier or printer and have the papers left unattended, documents will only print when the employee allows it to. This protects healthcare information by making sure an authorized employee sees the information they need and eliminating risk that this data gets in the wrong hands.
Your company can choose different ways employees can authorize printing. It can be as simple as a badge swipe (maybe even the same one they use to get in the building) or password. It doesn't have to complicate the printing process and will help you remain HIPAA compliant.
Step 3: Implement Electronic Fax
Fax is an integral part of the healthcare industry, but it doesn't have to be old school. Electronic fax can not only keep you HIPAA compliant, it can save you money. When you use electronic fax, you eliminate the paper portion and instead faxes are sent digitally to a specific folder on your database or to a specific email.
This is a much better alternative than having faxes sit on the copier tray, because they arrived without warning. What is stopping someone from taking the wrong fax or stealing PHI and threatening your HIPAA compliance?
With electronic fax, you can limit accessibility to the incoming faxes. The employees who need to see the faxes can access them while protecting data from prying eyes and enforcing HIPAA security.
Step 4: Clear Hard Drives
When it is finally time to retire your copiers and printers or return them to the leasing agent, clearing the hard drives is an essential step to protecting your HIPAA compliance.
Every copier and printer stores the documents it interacts with on an internal hard drive. Unfortunately, these hard drives are often neglected and forgotten, but don't worry you can wipe the hard drive before it goes to its next home.
Most copiers and printers have step by step directions on how to clear the hard drives yourself. If you don't have the time or manpower to clean up their hard drives, you can partner with a managed print services provider, like Access Systems, who can do it for you for a small price.
Step 5: Utilize a Document Management Software
Add another layer of secure printing with a document management software. With the right set up and implementation, a document management software can
authorize print releases
track copier and printer activity by device and user
stop unapproved usage
restrict what copiers and printers employees can use
It provides many security checkpoints. Many organizations, large and small, can even save money, like in this real-life case study.
At Access Systems, we often use Papercut for healthcare organizations. Papercut is easily integrated in our copiers and printers and doesn't disrupt the ease of printing with all of the monitoring benefits needed for HIPAA compliance.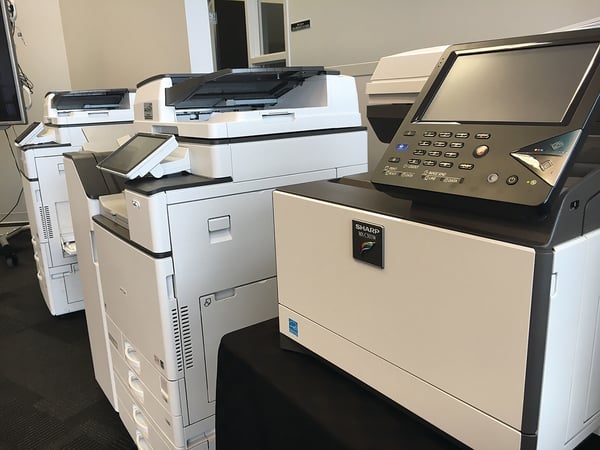 Make Sure Your Print Strategy Is HIPAA Compliant
Thankfully, you don't have to do it all alone. Access Systems is here to support your managed print endeavors. We want to be your business partner, which is why we start every relationship with a free print assessment.
Our free print assessment allows us to deep dive into your business and print strategy. We know there is no one size fits all solution when dealing with HIPAA or any compliance. We work with you to create the right managed print solution for you.
Are you ready to talk about your secure printing? Give us a call (888-464-8770), send us an email or fill out this form!