Many managed print service providers (MPSP) lead with one big sell: "we can save your company money!" While print management efficiency is indeed important, you also need a MPSP which can offer printer security—keeping your files protected against malicious data theft.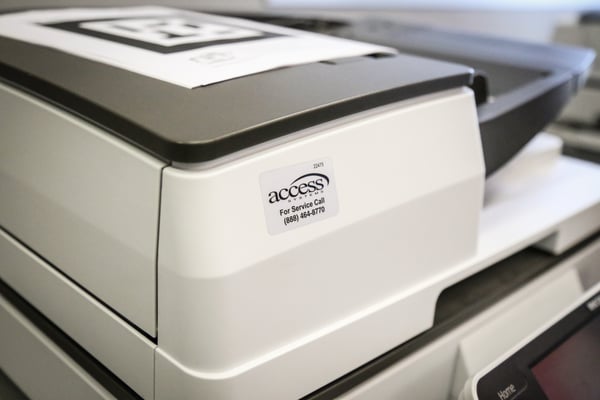 Sixty percent of organizations reported at least one print-related data breach in a year, according to the printing industry leaders at HP. That same research found that only 18% of companies are monitoring against printer threats.
That's probably why we hear about printer takeovers so frequently— like the 2018 YouTube printer hack, where 50,000 printers spewed out an unsolicited advertisement asking random users to subscribe to a popular video channel.
As a business, think of all the confidential company or customer information you print regularly, able to be stolen by a savvy hacker. Those in the healthcare, law and education industries need to be especially mindful, as they are often the prime targets for ransomware attacks in effort to gain valuable personal information.
When looking for the right Managed Print Service Provider, ensure:
1. They're Mindful of Your Industry's Compliances
While all industries can benefit from document security, certain companies have strict compliances they must follow. If a patient's personal information was shared, for example, a medical facility can face legal repercussions and mar their reputation. Or, a law firm can get sued for leaking information in a data breach.
When choosing a Managed Print Service Provider, check to see that they've worked with other companies in your industry and have an understanding of your unique privacy needs.
Also, be sure to ask them core questions, as those recommended by Bizjournals, including how quickly can the MPSP shut down your printer if an attack occurs and more.
For sensitive information, the right MPSP can ensure your printer and copiers are safeguarded— and that this important data is behind strong firewalls, encrypted and backed up for extra security.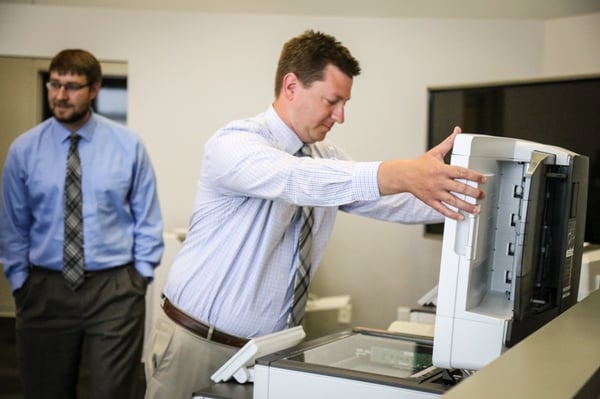 2. They Keep Your Printers & Copiers Properly Updated
Any device that is connected to the internet can be hacked— your WiFi-ready printers and copiers are no different.
When you send a file to print, your device caches a version of this document in its memory. If you don't regularly clear your printer's hard drive, this stored data can be recovered by a smart hacker. This is something to be mindful of before selling your devices or returning a leased piece of equipment.
Clever cyber criminals can also email someone on your team an infected file. Posing as an authority figure in your office, they may ask you to print a file and place it on their desk. Unbeknownst to you, the action of printing triggers a code, which connects to your entire network through your device.
Regularly updating your printers and copier's firmware and drivers can help to ensure you have the best protection. These important software patches are something your busy company can easily miss, but a savvy managed print service provider will do for you, or know when it's time to upgrade to a new piece of equipment. Learn more about protecting these often neglected devices here.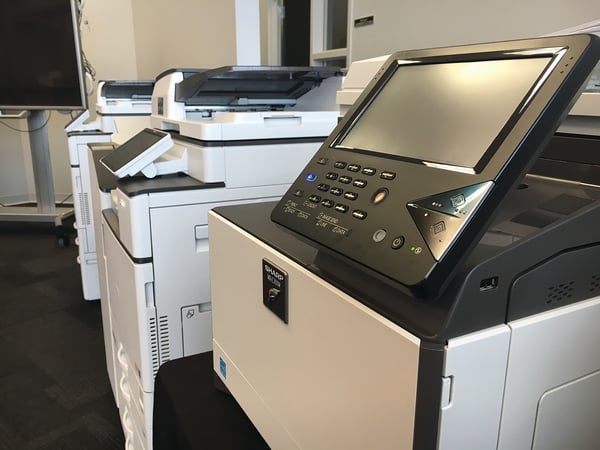 3. They Use Trustworthy Document Management Software
Managed print service providers often use various software programs to improve their efficiency. Ask the provider about what software they use for print management and how secure each are.
Here at Access Systems, for example, we use multiple different softwares to ensure your documents are safe when printed: Papercut, digitech systems and Square 9— to name a few. Through Papercut, we can offer driverless and wireless web printing to offer improved security against hackers. It also helps control unauthorized printing. This program comes with many cost control features too, working to save you money as well.
Some companies choose a managed print service provider without knowledge of the platforms they use. Once you know, do your own research on the software to gain confidence in how these systems can improve your security.
The Instant Benefits of Trusting a Managed Print Service Provider
When it comes to printer and copier security, you can't be too careful. However, security is just one part of the equation when choosing a managed print services provider for your print management. Check out these other benefits to trusting the right provider.
Trust our team at Access Systems with understanding your business' unique security needs. Explore our Fleet Management Program or give us a call at 888-464-8770, toll free, to discuss your solutions.